Bike Holidays
THE COMPLETE MADEIRA EXPERIENCE!
Five days of riding. Seven nights accommodation. Airport shuttles.
From 695 € PP
East to West, South to North, the four corners in a week of action exploring the best things that Madeira has to offer. This is a package that we are true experts as this is more than just riding: it's a cultural and gastronomical adventure where you can experience the island as a true local. Getting off the beaten path and go beyond the adventure.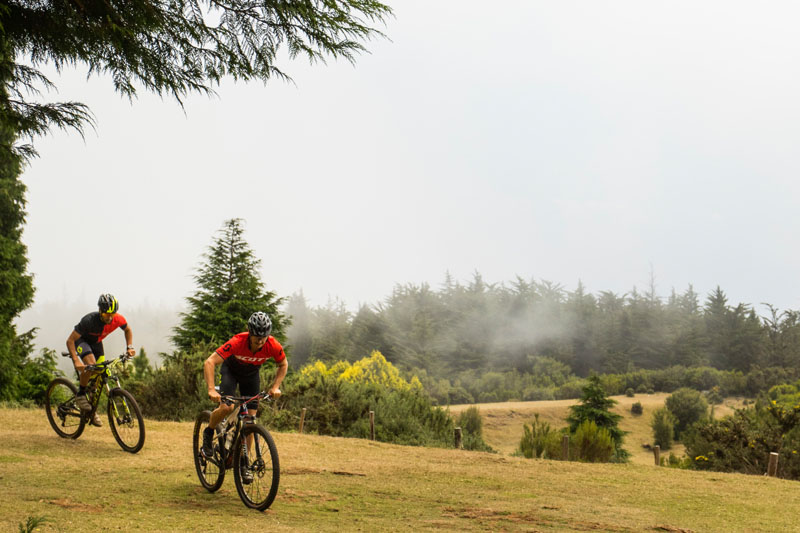 What to expect

FIVE DAYS OF RIDING
In five different areas

40KM PER DAY
From 500 UP to 1000hm UP

360 EXPERIENCE
Explore all four corners of Madeira Island

ADVENTURE
Like riding the 5 continents in one day
Included

AIRPORT TRANSFERS
Airport to accommodation and back again
ACCOMMODATION
Villa, apartment or hotels – your choice

SHUTTLE ASSISTED
Save those legs for the fun parts

GUIDE
Certified mountain bike guide at your disposal

MECHANIC
Professional mechanic at your disposal (fees apply)

BIKE WASH
Access to bike wash facilities
READY FOR A RIDE?
Access our booking form and book your next adventure with Freeride Madeira.
Price
(based in five days of riding and seven nights accommodation)
Hotels selected by Freeride Madeira - price under consultation (from single riders or big groups)Photos + info
Villa Freeride - 1100 € (June-September is high season and you should email us for availability and price) (minimum four and maximum eight riders)Photos + info
Guest House Freeride - 925 € (minimum one* and maximum two per room. Several rooms are available)Photos + info
Apartment Freeride 2 - 895 € (minimum one* and maximum 2 per apartment. Several apartments are available)Photos + info
Apartment Freeride 1 - 795 € (minimum one* and maximum four per apartment. Several apartments are available)Photos + info
Note*: If you are a single rider you can still stay in the apartment and Guest House options. For 'Apartment Freeride 1' is 945€, for 'Apartment Freeride 2' is 1045€ and for Guest House is €1045. For more information please contact [email protected].
What to expect
​- Local classified guide that will adapt the riding to the groups skill and fitness level, help you with line choice and overcoming obstacles and mostly importantly keeping you excited and safe until the end of the day.
​- To ride the freshest trails and best maintained riding areas according to the trails that our trail building crew have been working on lately.
​- Madeira has many micro climates and specially in the Winter, Spring and Autumn it's easy to get caught by rain, wind and cold in certain areas, while 30min away the weather is calm and the sun is shining. We have the local knowhow to ensure you ride the driest areas of the day and don't miss out on some world class views.
​- Professional driver & a clean and well maintain shuttle van
​- Average distance and altitude gains per tour: 40km long/ 1500hm down/ 850hm up (These number will vary depending on the groups skill and fitness level)
​- In Terms of Landscapes, Fauna and Flora, this tour provides you unique views over deep valleys, our highest mountains and many ridge lines diving into the Atlantic Ocean.
​- The terrain we will be riding is Cross-country and All-mountain oriented.
​- Schedule: Primary meeting point & Check-in at our store at 8:50am – Shuttle van leaves the Store at 9am – Lunch stop between 12pm to 1pm – Shuttle van arrives back at our store from 15:30pm to 17:30pm(The group skill and fitness level; how distant is the riding area from our store and the weather will influence the return times)
​- Secondary pick up point in funchal city center at Cristiano Ronaldo Museum + info
​- Available, modern, high quality and well maintained bikes that will keep you comfortable and safe on any type of terrain Madeira has to offer.
Extras
Personal Accident insurance (7,5€ PP – per day) + INFO
Extra days of riding (75€ PP – per day – with own bike)
Bike Rental + INFO
Terms & Conditions + INFO
Important notice: It is highly recommended that each rider has his own Personal Accident Insurance that covers any hospital expenses in case of injury. We can also provide you this insurance for 7.50 € per day. Riders without any insurance are responsible for them selfs only.